Casa Chibububo Vilanculos
Casa Chibububo Vilanculos Vilanculos
Casa Chibububo Vilanculos, Vilanculos, Mozambique



8 Sleeper Unit From R2000.00 per night
22 Sleeper Unit From R4500.00 per night
| | |
| --- | --- |
| Price From: | R2 000.00 |
| Destination: | Vilanculos |



Slow Season Special

- 01/02/2017 -30/03/2017 and 19/04/2017 ? 29/06/2017
Pay for 3 nights, Stay 4 nights (1 night free)
Applicable to all units

Casa Chibububo Lodge is a beautiful hidden treasure situated on the white sandy beaches of Vilanculos in Mozambique. Our self-catering elevated wooden houses are 20 m from the beach with breath taking views of the ocean and islands close by. The atmosphere here will surpass your wildest expectations and our hospitality will lure you back again and again. The lodge comprises of 1 x 22 sleeper self-catering house with garden and pool views (ideally booked out as 1 self-catering unit for larger groups), 9 x 8 sleeper self-catering houses with sea view, a restaurant, bar and sparkling swimming pool for those hot and lazy days. Braai facilities in our tropical garden and covered parking at your house with security on site. The 22 sleeper wooden house consists of 11 twin bedrooms, with 3 en-suite bathrooms and another 4 bathrooms shared. Doors open onto balcony with garden and pool views. Shared living room and kitchen. Fully equipped self-catering unit with housekeeping daily. Each bedroom is equipped with linen, mosquito nets, ceiling fans and bath towels. Ideal for larger groups or for more than one family on holiday together. The 8 sleeper wooden houses are fully equipped for self-catering and feature 3 bedrooms and 2 bathrooms (1 double en-suite and two twin bedrooms, with one bathroom sharing). Kitchen, dining room, lounge area (with 2 more single beds) and deck area with sea view. Each bedroom is equipped with linen, mosquito nets, ceiling fans and bath towels. Housekeeping daily. Adventure awaits in Vilanculos where an array of activities will keep you entertained. Take an Island hopping trip to the Bazaruto Archipelago Islands with our motorized dhow ? ?Lisa?. Or ask our friendly staff to arrange for snorkelling, Scuba diving, deep-sea fishing, horse riding or a relaxing massage on the deck of your house. The lodge is situated 1 km from the Vilanculos International Airport and 3 km from the Vilanculos town centre. A few important facts about Chibububo: ? Check in from 14:00 and departure strictly at 10:00. If possible, please advise us of your approximate time of arrival. ? Airport transfers can be arranged at R100 per person, please advise us of your flight number and time of arrival ? For your convenience we have a card machine available at the lodge that can process Visa or Master Card payments. ? The Restaurant at the lodge serves Breakfast from 07:00 ? 11:00 and Dinner from 18:00 ? 21:00. If you wish to make a booking for dinner, please do so at the bar before 12:00. Meal of the day and prices will be displayed at the bar. If you have any special requests, please discuss this with the staff. We will be serving fresh local produce at the restaurant and it is dependent on what is available that day. ? The bar will be open daily and we have a selection of drinks available. Please note that no alcohol will be served to any under 18 and we reserve the right to ask for proof. Please settle your accounts at the bar on a daily basis, as no tabs will be left open for the following day. ? Braai facilities are located next to the swimming pool in the gardens. NO braai is permitted on any balcony. We have wooden houses and thatched roofs which poses a serious fire risk if rules are not adhered to. ? We have our own motorized dhow available for island trips and fishing at the lodge. Trips can be booked with management and is weather dependant. ? Vilanculos is situated in a malaria mosquito area, please consult your doctor for the right preventative measures for you and your family. Please bring enough mosquito repellent for you and your family.

Area Attractions
Activities and Facilities Casa Chibububo Vilanculos
Game fishing, snorkeling, island hopping, boat hire, island transfers, scuba diving,
swimming pool, restaurant and bar, shuttle service to airport and town (1.5 km from the airport).

Casa Chibububo Vilanculos Accommodation
2 Meters above ground level.
3 bedrooms with 2 bathrooms, balcony, kitchen, dinner and social room.


Special Offer Details
8 Sleeper Unit From R2000.00 per night
22 Sleeper Unit From R4500.00 per night
Rates 2017
Low Season
8 Sleeper Unit
R 2000.00 per night
22 Sleeper Unit
R 4500.00 per night


Mid Season
8 Sleeper Unit
R 2500.00 per night
22 Sleeper Unit
R 5000.00 per night
High Season
8 Sleeper Unit
R 3500.00 per night
22 Sleeper Unit
R 6000.00 per night


Slow Season Special

- 01/02/2017 -30/03/2017 and 19/04/2017 ? 29/06/2017
Pay for 3 nights, Stay 4 nights (1 night free)
Applicable to all units

All accomodation is self catering, resturant and bar on site.

Low Season:
16/01 - 30/03
19/04 - 29/06
25/06 - 28/09
10/10 - 05/12


Mid Season:
31/03 - 18/04
30/06 - 24/07
29/09 - 09/10


High Season:
06/12 - 17/01/2018


Prices are from a starting price per person sharing, subject to change, airfare increase, currency fluctuations and availability. Advance purchase, peak season surcharges, block out periods and minimum stay conditions may apply. Please note that airport taxes, fuel levies & surcharges are approximate and and subject to change, the exact amount will be confirmed ate time of booking. Valid for dates as specified.

Valid: 2017-02-02 - 2017-06-29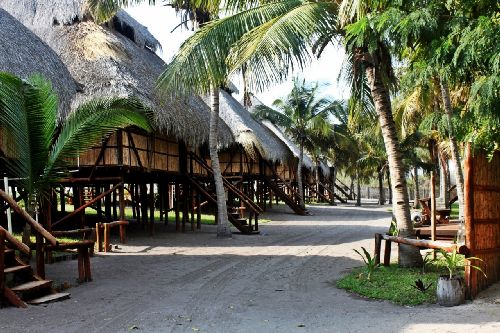 Mouse over the image to view bigger size